Sam Meredith – rider report
On Sunday 23rd September 2012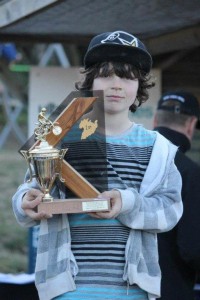 I went to the BT Trophy Day at Maddix Park.
The mini track was nice and smooth and the weather stayed sunny all day. On the mini track we did five 8 plus one lap races and I won all of the races in my 6-8 year 50cc MX class. It was great to get 1st place and so awesome to have a trophy that used to be Ben Townley's!
My brother Wade was supposed to ride to but he coughed all night and woke up all hot so my Mum said he had to stay home. He was gutted that he missed out. Our next race meeting is going to be the last round at Taupo on 30th September. This will be our last practise before we head down to the KTM TSS Red Baron NZ Mini Motocross Nationals being held at the Kapi Mana Motocross Club in Upper Hutt on the 6th and 7th of October. I hope the weather is sunny down there to!
Thanks to the Tauranga Motorcycle Club for sponsoring me.