NZ Mini MX Champs 2013
NZ Mini Motocross Nationals 2013
The New Zealand Mini Motocross Championships are being hosted by the North Harbour Mini Motocross Club. Over 2 days (2nd-3rd November) Kids will be racing around a 1.9 kilometre circuit at Waitoki. The club holding  the event are expecting a very big turn out of champion riders from all parts of New Zealand. The riders are all aged between 4 and 11 and riding various makes and models ranging in cc from 50cc – 112cc.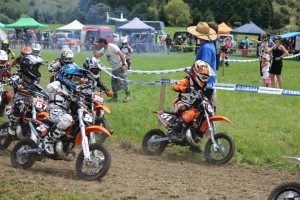 The weekends racing is held on – The Davies' property, 104 Ireland Road, Waitoki, Auckland.
We wish you (rising stars in the sport) all the very best. May the weather be fine and that you have lots of fun racing against all your friends.
All the very best – from The Club.
So you maybe wondering what the outcome is?
Stay Tuned!