Tyler Wiremu shows them how to do it down South!!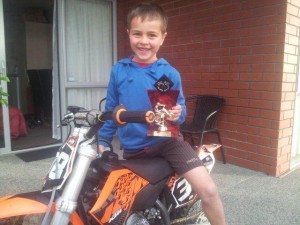 Six year old Tauranga Motorcycle Club rider Tyler Wiremu has brought home a 2nd place trophy from the Canterbury Motocross Champs held just out of Christchurch on the 8th and 9th of September. Tyler was racing his KTM 50 Mini SX in the 4-6 year class up against 11 other riders. To make things tougher, the rules weren't very clear on the registration form so four of the bikes Tyler ended up racing against were the bigger KTM SX50 pro seniors.
Although this was a bit scary at first, it meant that Tyler rode super hard to keep up and performed his best riding yet. He raced four 12 minute plus one lap races on Saturday, and the same again on Sunday.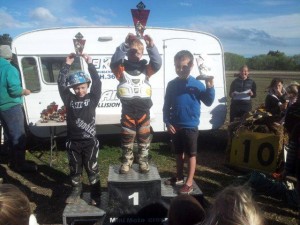 He did a fantastic job to secure the second place trophy as the 3rd and 4th placed bikes were always pushing hard behind. Scott Barr-Smith (another Tauranga Club rider) has been helping Tyler train and it was great that he managed to be with him during the race weekend to give extra support and see his training pay off with Tyler taking home the 2nd place trophy on a non-level playing field.
Tyler is now looking forward to riding in the intro MX 50cc 4-7 year class at the KTM TSS Red Baron NZ Mini Motocross Nationals to be held at the Kapi Mana Motocross Club in Upper Hutt on the 6th and 7th of October 2012. Good luck Tyler!!